Arriving at the office of George Weber inside LNP Media Group headquarters at 8 W. King St. feels like you're leaving the rest of the company behind. And you almost are. 
The path begins at the rear of the second floor. You go down a hallway, down a couple steps, then down another hallway and you're there, at a dead end that's isolated from every other office in the building save one. 
The modest-sized windowless office – a converted storage room – that the audience and circulation director shares with two colleagues is not exactly an inspirational setting. 
So when LNP Media Group announced Monday it's leaving its longtime home for the former Bulova building at 101 N. Queen St., which is being redeveloped into modern office space and other uses, he was genuinely excited. 
Weber, a 40-year employee, is looking forward to being in an office with an open layout, bathed in natural light.  
"Your space has a lot to do with the way you feel and work," he said. 
The owner of LNP Media Group, the Steinman family, has operated its newspapers from offices at 8 W. King St. since 1906. 
But as times and needs change, often company locations do, too. 
And that's why early next year, the address of the Steinman Communications headquarters will become 101 N. Queen St.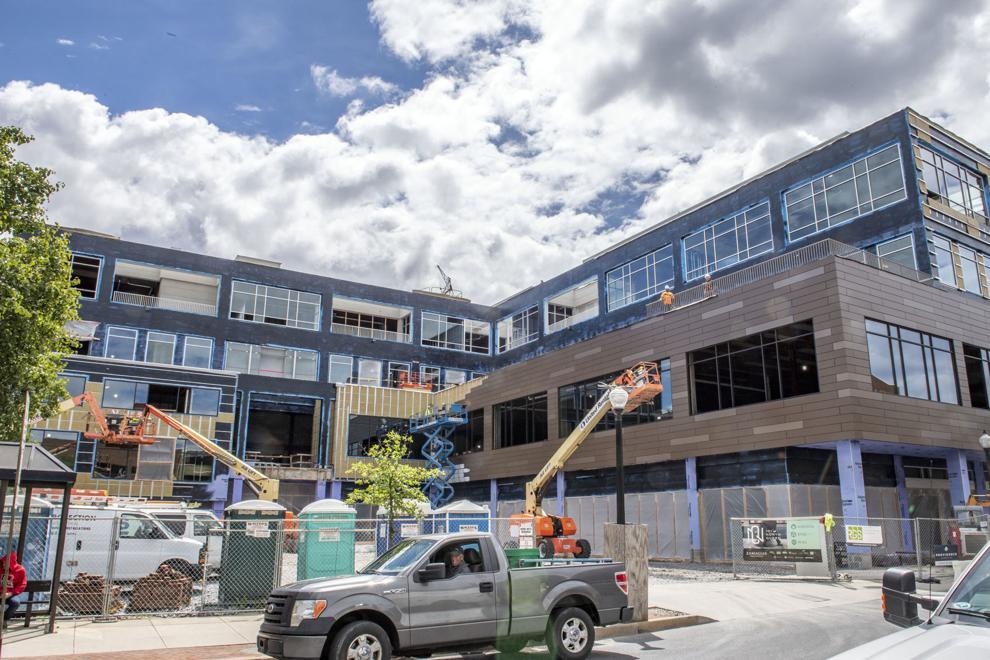 Steinman Communications and its LNP Media Group are moving to space that will be new and more efficient. The building, renamed 101NQ, is being redeveloped by Zamagias Properties. 
About 180 Steinman Communications employees will relocate one block north to the second floor of the building, where they will be 101NQ's biggest tenant. 
The 40,000-square-foot space will house the majority of LNP's personnel along with Steinman Communications, Steinman Real Estate and Steinman Foundation employees. 
"It will be a very crisp, clean and open work environment, with lots of natural light," said Joe Donaldson, Steinman Communications' director of facilities and property project management. 
Caroline Muraro, president of LNP Media Group, sees many benefits in consolidating the workforce from multiple floors onto a single floor with a mezzanine. 
"This will be an exciting new chapter for our organization," said Muraro, predicting the new location will foster collaboration and make it easier to attract and retain employees. 
Some LNP employees will be moving from 8 W. King St. to Hempstead Road in the Greenfield Corporate Center in East Lampeter Township, where LNP will be printed starting next year. 
The West King Street property, and separate adjacent parcels, are being sold.  
"The Steinman family gave significant consideration to the future of the buildings and determined they should be placed in the hands of those who similarly respect the importance of the downtown location and the history of the place and had the experience in bringing new life to aging structures," said Robert M. Krasne,  CEO of Steinman Communications and publisher of LNP. 
The buildings housing LNP and several flanking them — the Bakehouse on King and the former location of Harold's furniture store — are being sold to the Zamagias organization. The developer has not determined how it will redevelop the properties. 
Meantime, LNP's former production building and parking lot at South Queen and Vine streets are being sold to Willow Valley Communities, which is planning to expand its network of retirement facilities into an urban campus at the site. Details of the plan have not yet been publicly disclosed. 
---
Deep legacy

 
The address of 8 W. King St. has a played a major role in the history of newspapers in Lancaster County for most of the past 225 years, as detailed in the 1984 book "The Steinmans of Lancaster: A Family and Its Enterprises" by John H. Brubaker III. 
In 1794, the city's first successful English-language newspaper — The Lancaster Journal — was launched from an office in a tavern on the site. It was published by William Hamilton and Henry Willcocks. 
Due to a merger, the newspaper moved across the street in 1840. Other changes in location and owners followed, with A.J. Steinman becoming an owner of the then-Lancaster Intelligencer in 1866. 
(A.J. Steinman was the grandfather of Beverly R. "Peggy" Steinman, chairman emeritus of Steinman Communications.) 
A.J. Steinman and his nephew, Charles Steinman Foltz, bought a two-story building at 8 W. King St. in 1905, moving their Intelligencer there the next year from 8 S. Queen St. 
The structure was razed in 1927 to make way for the current five-story building. In 1985, the office space was renovated top-to-bottom and expanded into 12-14 W. King St. 
Check out footage from construction of the building in 1927 in the video above.
---
Different needs

 
But much has changed in the newspaper industry, and at LNP, since then. 
Three LNP newspapers have been combined into one, Donaldson noted. Technological advances have sharply reduced the space required for the photography department, archives and other activities. 
Not only is the current 85,000-square-foot office building way too large for LNP's needs today, he said, its five-story configuration — with many load-bearing walls and columns — provides terribly inefficient workspace and is at odds with modern, open layouts. 
LNP thoroughly studied whether to renovate its existing building, Donaldson said, but concluded it would be a "forced fit," with less than ideal results and a price tag exceeding the costs of relocation. 
Once in the new space, Donaldson said its annual operating costs will be significantly lower compared to the current space, thanks to the more efficient layout and state-of-the-art heating and cooling systems. 
"We're making judicious decisions about where to put our money," he said. 
LNP has signed a long-term lease for the 101NQ space, with renewal options. LNP expects to move there in the first quarter of 2020, according to Donaldson. 
---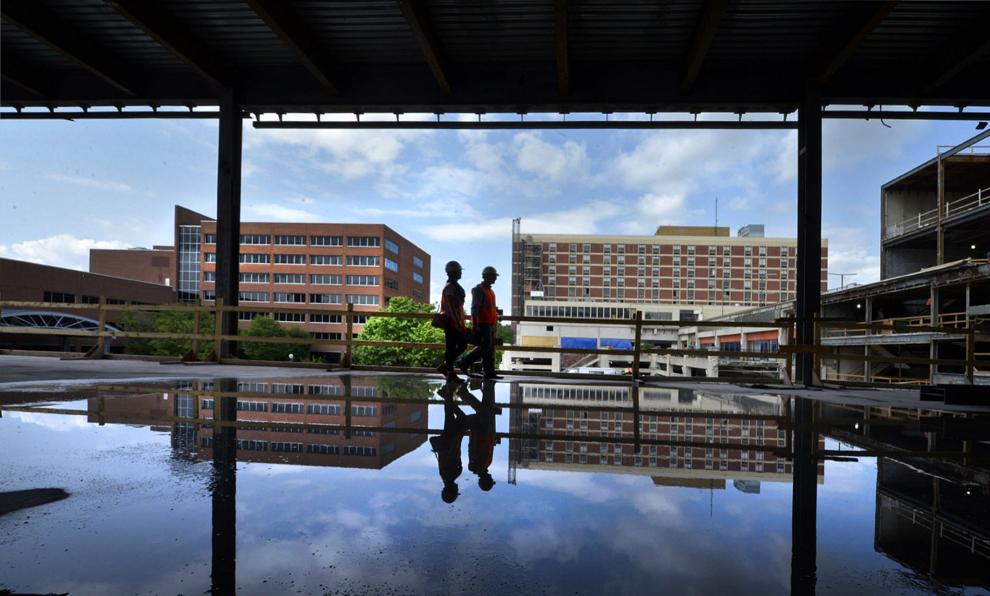 Employees enthused

 
LNP employees said they're looking forward to the change of scenery. 
"I think it will be kind of fun," said Cindy Stark, a 32-year employee. 
Stark, an accounts payable clerk, added: "It'll be nice to have something new and fresh." 
"I'm looking forward to what the new surroundings have to offer," Cheryl Clayton, an IT systems administrator and 36-year employee, said. 
The current building, she pointed out, "needs a lot of work." 
---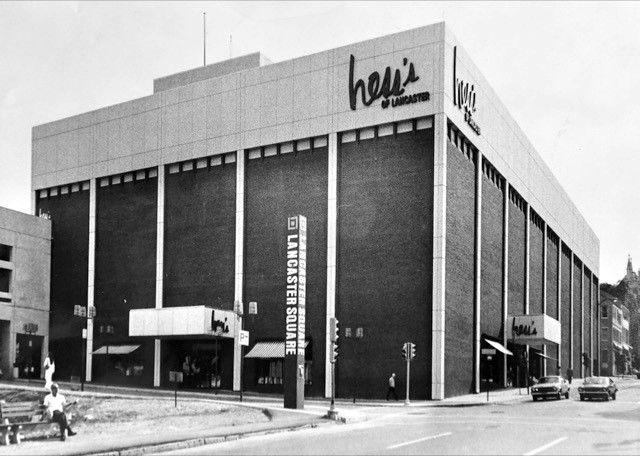 From clothing to fuzes

 
The former Bulova building has as exotic a history over the past 50 years as any building in downtown Lancaster. 
It was built as a Hess's department store. It opened in 1971 to much fanfare but lasted only two years. 
It then became a manufacturing plant — producing fuzes to detonate artillery shells — when Bulova predecessor Hamilton Technology moved there in 1980. 
It has been vacant since Bulova pulled out its last 50 employees in January 2009. 
Zamagias, a Pittsburgh-based developer, unveiled plans to revitalize the empty structure in early 2017. The mixed-use project, costing $25 million to $30 million, will include retail, office and residential space. 
Cargas Systems, a Lancaster-based business software and consulting company, will be the building's second largest office tenant, leasing 25,000 square feet. 
Zamagias has two other revitalization projects in downtown Lancaster. They are the Keppel building, a $9.5 million retail and residential project at 323 N. Queen St., and Steeple View Lofts, 118 N. Water St., also a $9.5 million project.