After a summit was announced early last year between President Donald Trump and North Korean Leader Kim Jong-un, the White House Gift Shop unveiled plans for a commemorative coin to mark the event.
When the summit was postponed and looked like it wouldn't happen, the White House Gift Shop continued to accept orders for the coin.
The idea of a White House Gift Shop coin to commemorate an event that might not take place prompted widespread media interest, as well as some ridicule.
(A meeting eventually did take place last June in Singapore and was followed by a February session in Vietnam.)
All of the attention boosted interest in the $100 coin, which eventually generated roughly $10 million in sales for the White House Gift Shop.
But instead of going to the actual White House or any government agency, all of those sales flowed through a suite of offices at Warwick Center, a small commercial strip near Route 501 and Newport Road.
While it traces its history to a 1950 authorization by President Harry Truman, the headquarters of the White House Gift Shop has been in Lititz since 2012. It's operated by Lititz resident Anthony Giannini with his wife, Helen.
"It's very weird and very cool," Giannini says of the shop's curious history and its current location.
---
A gift shop's history
After a failed assassination attempt of Truman in 1950 left one member of White House Police dead, Truman authorized a fund to benefit the family of the slain officer and the others who were injured in the attack by two Puerto Rican nationalists.
When the White House Police became the Secret Service, the Truman-authorized fund became the Secret Service Uniformed Division Benefit Fund.
The fund was replenished from the sale of items from a gift shop originally set up in the basement of the White House but eventually relocated to the nearby executive mansion.
For years, the on-site company store dubbed the White House Gift Shop sold T-shirts, pens, golf balls and other swag with agency or military logos to agency employees.
But the fund that ran the gift shop ran into financial trouble.
Giannini, whose work in government put him in touch with members of the Secret Service, began helping with its online sales. Then in 2011, he signed a contract with the fund to take over the gift shop business.
The next year, Secret Service vans drove up from Washington to Lititz, where agents unloaded the branded Christmas decorations, magnets, mugs and other trinkets into his home on Front Street.
Giannini soon bolstered its website and worked to secure the trademark for the White House Gift Shop.
"They granted the trademark because of our association with the White House. It was a real thing," Giannini says.
Giannini has since improved the online presence of the White House Gift Shop, creating a website that looks like it could be affiliated with the actual White House but being careful about selling only what is authorized.
"We don't mislead anyone because we were in the White House. This is a 73-year-old business, and when it transferred to Giannini Strategic Enterprises, all of the rights transferred, and it was affirmed by the U.S. Patent and Trademark Office, and they said exactly what we could do."
---
A home for business
Today, Giannini operates several companies including Giannini Strategic Enterprises, which occupies some 10,000 square feet of space in Lititz.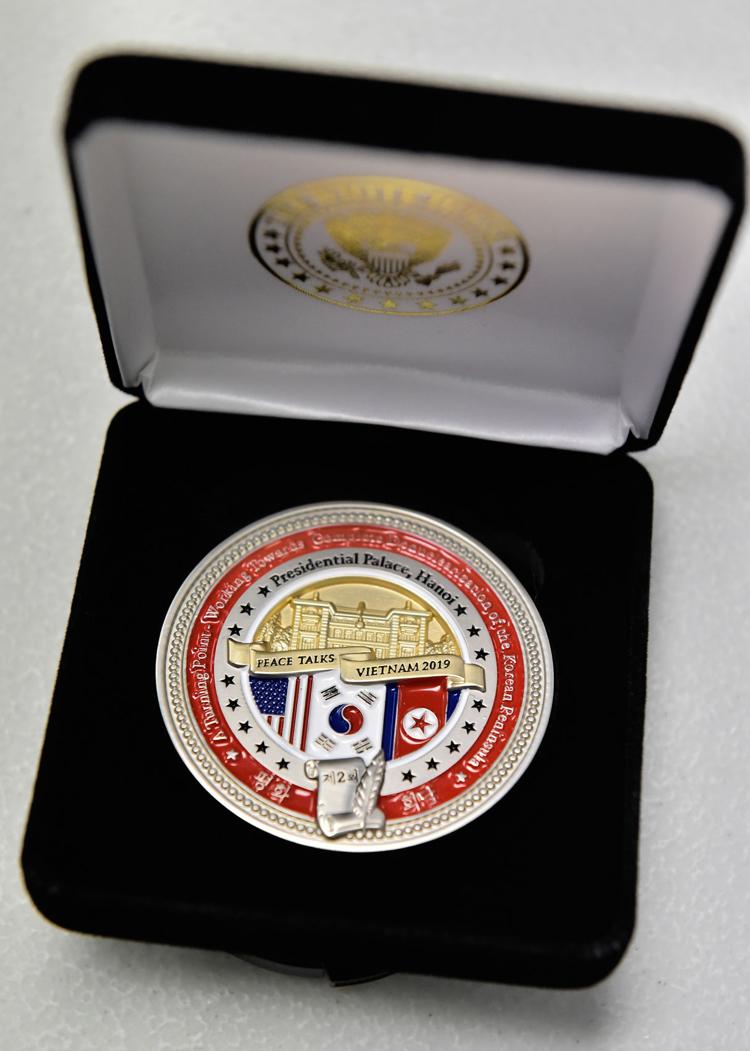 The shop sells some 1,600 different products, including White House, presidential, diplomatic and Air Force One cufflinks, clocks, pens, magnets and mugs as well as coins and ornaments.
There are also bobblehead dolls of U.S. presidents, including one of Trump where he's standing next to a Christmas tree in front of a fireplace, above which hangs a painting of Abraham Lincoln. It sells for $95.
Some products are designed in the Lititz space, which also operates as the distribution center and customer service headquarters. Many of the products are made at a plant in Rhode Island.
During its busy season, the White House Gift Shop has up to 20 employees, although it typically has about seven.
Notwithstanding the unusual sales boost from last year's North Korean summit coin, Giannini says the gift shop does around $7 million in annual sales.
The 70-year-old Giannini, who is an admirer of fantasy and science fiction writer Ray Bradbury and has taken an academic interest in the origins of human creativity, has been expanding his own business footprint in Lititz.
Giannini recently leased the corner space at Warwick Center, where he is nearing the end of construction of Tony G's American Diner & Pizza Kitchen, which he expects to open in July.
He describes the restaurant as a "revisionist diner" that will feature traditional 1950s elements while serving street food from around the world.
The success of the White House Gift Shop is helping fund the new business ventures, which Giannini hopes eventually will include another eatery as well as a small retail store for the gift shop next to its headquarters.
Giannini sees the gift shop, and especially the commemorative coins he creates, as a way to tell the story of a president's actions.
"What I'm trying to do — and I'm going to do this for the next president — is tell the story in coins," he said. "It's a coin narrative."