Two decades ago, developers asked to invest in downtown Lancaster might have replied, "Why should I?"
Today the answer is more likely to be, "Why not?"
Thanks largely to hundreds of millions of dollars of investment in the past dozen or so years, center city has been transformed from an ailing area to an appealing one.
And the latest to see downtown as an enticing land of opportunity are business partners Dan Gotwalt and Kris Kaufman.
Gotwalt and Kaufman last week purchased 29 E. King St., the former home of Garvin's department store and once the Horst Group's headquarters, for $1.7 million.
"The biggest draw for us is what's happening downtown...," said Kaufman. "There's just so many things going on — new businesses coming, the restaurant scene, the arts scene.
Gotwalt and Kaufman also were encouraged by the major economic-development projects now underway there, including the construction boom in the same block as their building.
These include the expansions of Fulton Bank's headquarters next door and the Lancaster Marriott at Penn Square across the street, putting exclamation points on a renewal that's included the arrival of popular restaurants/nightspots Tellus360, Annie Bailey's and Altana.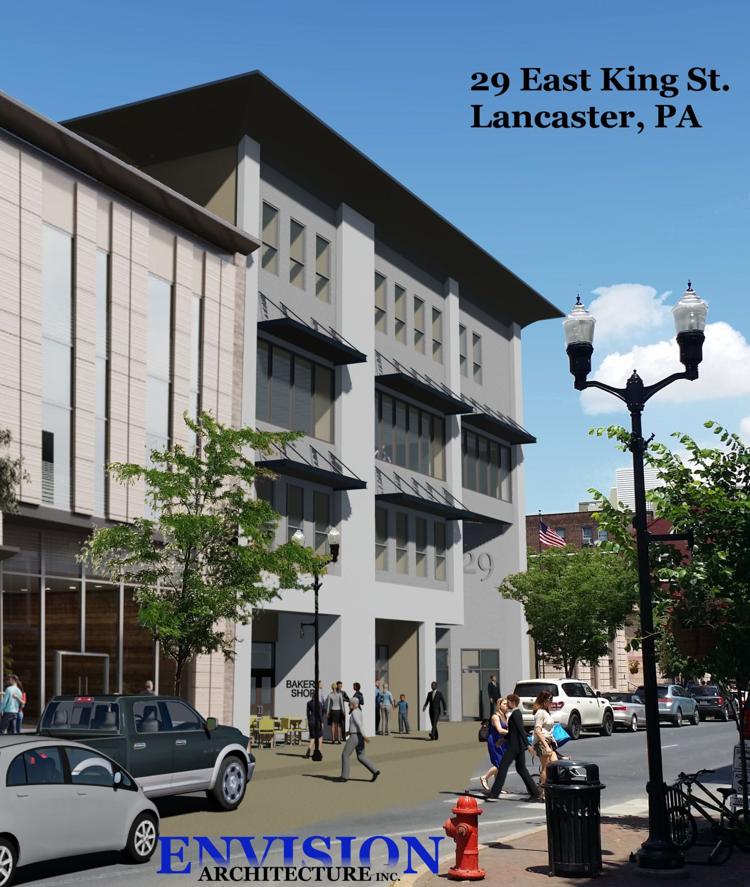 Gotwalt and Kaufman envision converting their newly acquired building — only 20 percent occupied — into a mixed-use project.
They're exploring putting a restaurant on the first floor, office space on the second, third and fourth floors, and apartments or condominiums on the fifth and sixth floors (on the back half of the building).
"It has the ability to be a centerpiece of downtown," said Kaufman. "That's what we're hoping for."
Historic roots
The 84,000-square-foot building dates to 1911, when merchant Milton Thomas Garvin built a new, bigger store to replace a store on site that he had acquired in 1894, according to LNP files.
But after decades of stability, Garvin's department store closed in 1975, leading to three changes in ownership.
The Horst Group bought and renovated in 1977 for its headquarters, but left for the Granite Run Corporate Center in 1995.
The Girard Estate bought the building in 2006, renovating the majority of the structure for office space, but those tenants have mostly vacated.
That led to Kaufman and Gotwalt, who see the acquisition as a way to diversify their heavily residential real-estate portfolio.
On the first floor, The Art Store leases 4,900 square feet and the state Department of Labor & Industry 5,800 square feet. Whether The Art Store stays in the building remains to be determined.
Warfel Construction temporarily leases 3,000 square feet on the fourth floor, as a field office to oversee its expansion of Fulton's offices next door.
"(Kaufman and Gotwalt) see an asset that's waiting to be brought back up to speed and turned into a landmark," said Rich Wolman of Compass Real Estate. He and colleague Deepa Balepur handled the transaction.
The property also includes a historic three-story brick building at 40 E. Grant St., leased to the Goldberg & Beyer law firm.
Kaufman and Gotwalt anticipate investing $1.5 million to $1.8 million to improve the King Street building's exterior, build three or four apartments or condos on the unfinished upper floors and remodel the building's four-story interior atrium and side entrance.
Fresh look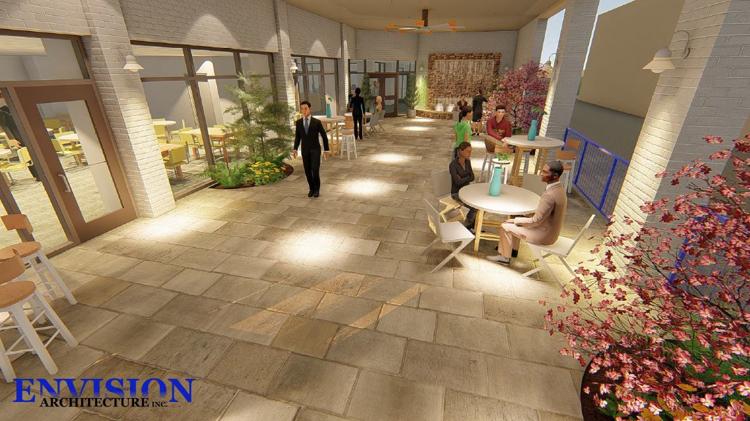 The building's appearance comes from a remodeling in the late 1970s for the Horst Group.
"It's tired. It needs some updated cosmetics. Prospective tenants can't see what the building could be for them," said Kaufman.
Gotwalt said the building's look is so outdated that its potential was hard for them to envision, even though they are experienced developers.
"It was tough to imagine how it could marry itself to what's going on around us. It needs a pick-me-up," said Gotwalt.
Helping to make the project possible is a $2 million loan from PeoplesBank.
Kaufman, 37, of New Holland, worked in facilities and operations at Franklin & Marshall College for 10 years while getting his feet wet in real estate. He left the college and went into real estate full time in 2016.
Kaufman and Gotwalt, 34, of Lancaster, met while students at Living Word Academy; Gotwalt's best friend at the time was Kaufman's younger brother.
Gotwalt spent nearly 10 years working at Advanced Trim & Kitchens, a home remodeling firm, before starting his own interior remodeling firm in 2008.
Kaufman and Gotwalt opened their real estate firm, Firm Foundations, in 2015. It owns more than 100 apartments, plus some office and restaurant properties, in Lancaster, York and Lebanon counties.
Kaufman and Gotwalt acquired the property from the Girard Estate for $2.5 million. The Philadelphia-based trust also once owned 23 E. King St. next door (now part of the Fulton expansion site) and the Lancaster County Assistance Office building at 826 Manor St.