Winter has its own stark beauty, but for those longing for a bit of color, Longwood Gardens' Orchid Extravaganza may be just the ticket.
Opening Saturday, the annual exhibition fills Longwood's Conservatory with thousands of orchids displayed in mind boggling ways.
A bit closer to home, Hershey Gardens also will turn its attention on the orchid Feb. 1-3 during its annual "For the Love of Orchids'' show and sale.
At Longwood, tradition is turned on its ear with blooms cascading down walls, spilling from containers and hanging from the ceiling.
Special events, including concerts, talks, tours, OrKid Days and more, are scheduled throughout the display, which runs through March 24.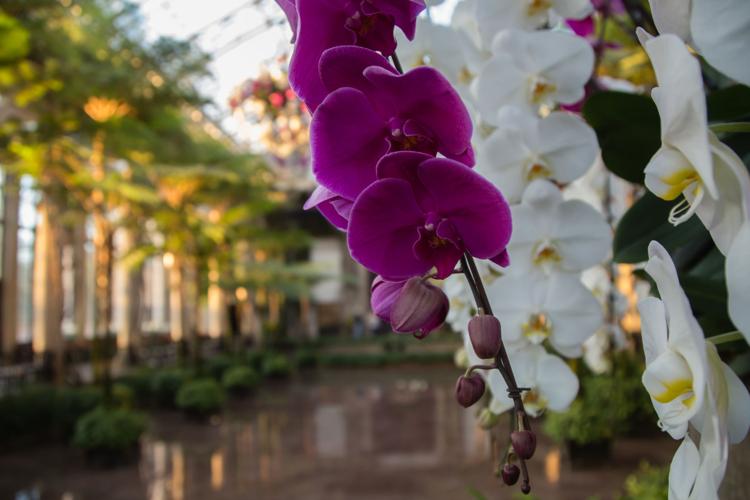 The four acres of the conservatory also feature other highlights blooming in winter, like the Mediterranean Garden and the Estate Fruit House.
In early March, Longwood's famed blue poppy (Meconopsis 'Lingholm') returns to the Conservatory.
Admission to Longwood Gardens is $23 for adults; $20 for seniors (age 62+); $13 for students (ages 5-18 or with valid student ID) and free ages 4 and under.
For more information, visit longwoodgardens.org.
The Hershey event showcases more than a thousands orchids and dozens of varieties.
Provided by the Susquehanna Orchid Society, the 35th annual orchid show and sale (third year at Hershey Gardens) will feature rare species and unique hybrids. 
It's included in the gardens' regular admission of $10 for adults, $9 seniors and $8 for kids 3-12. 
For details, visit hersheygardens.org or susquehannaorchid.org.