Editor's Note: Penn State's contract with Nike has funneled millions in cash, gear and apparel to Happy Valley since 1993. It may be among the most lucrative contracts in college sports. How lucrative? Penn State won't say - and by law, doesn't have to. With this series we examine Penn State's agreement with Nike and its impact on the university, its athletes and students.
Penn State football has long been synonymous with tradition. It's comparatively austere uniforms are iconic.
That's what makes the Penn State "brand" worth millions to Nike, say experts.
While the value of that brand may have diminished in the wake of the Jerry Sandusky scandal, and the school's programs impacted by the subsequent NCAA sanctions, Penn State remains one of the preeminent football schools in the country.
That's what companies like Nike, Adidas and Under Armour are looking for, said Courtney Brunious, associate director of operations at the University of Southern California's Marshall Sports Business Institute.
"Football is the main driver; if you have a strong football program you're likely to get a strong apparel deal," he said. "There's incremental value when you have (schools) that are successful in both football and basketball, like Michigan or Florida, but basketball programs are usually just the cherry on top — unless you're talking major college basketball brands like Duke or Kentucky."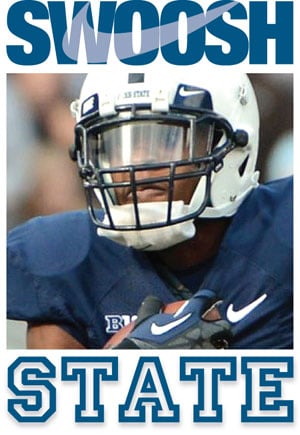 Wednesday
• Why Penn State's brand is one of the most valuable in college football
Thursday
• How Penn State outfits its athletes
Friday
• Why Penn State can keep Nike contract secret - and why that may change
Sunday
• Penn State beat writer Mike Gross on Penn State's relationship with Nike
• Joe Paterno's relationship with Nike chairman Phil Knight
The complete series will be published in this week's Sunday News.
University shoe contracts typically stipulate how much a school is to get in cash, apparel and gear, and stipulates that all university athletes and coaches wear the brand on the field — and sometimes off.
Reporter Matthew Kish of the Portland (Ore.) Business Journal published a series of articles on university shoe deals last summer, reporting — among other things — that University of Alabama "upper level administrators" are required to wear Nike gear at public events, "seemingly mandating the use of Nike golf clubs when officials hit the links with big donors."
He reported Nike also gets 10 tickets for each Crimson Tide home football game, and 50 tickets to one home game — field level, between the 30-yard lines.
Many university shoe deals prohibit covering up the company logo, imposing reductions in base compensation if, for example, an athlete's shoe is "spatted," or taped, so that the logo isn't visible.
It's all about the visibility, said Dr. Joel Maxcy, a sports economist at  Temple University.
"You can't underestimate the value of exposure, particularly football," Maxcy said. "Games are three hours long, people are watching all day Saturday, the logos are on TV almost the entire time."
Even when shoe companies pay millions to schools like Michigan or Notre Dame — or Penn State — "It seems like a tremendous deal for a Nike or Adidas, a really valuable advertisement they get for really cheap," Maxcy said. "You wonder why schools haven't driven a harder bargain."